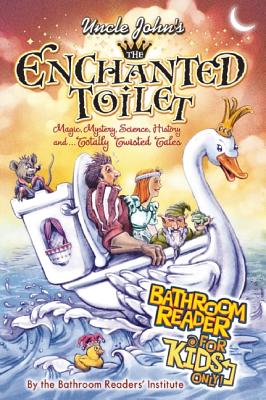 Stock Image. Our cover may be different
Author Name Bathroom Readers' Institute
Title Uncle John's The Enchanted Toilet Bathroom Reader for Kids Only!
Binding Trade Paperback
Book Condition Used - Good
Publisher Portable Press July 2012
ISBN Number 1607105586 / 9781607105589
Seller ID 716346
All books from our inventory are good to like new condition, unless otherwise stated. Satisfaction is guaranteed.
More Description
2012 "ForeWord Reviews" Book of the Year Awards, Finalist in Juvenile Nonfiction Category
This legendary addition to the wildly successful "For Kids Only " series is chock full of the fun facts and eye-popping illustrations that kids have come to love, but this time we've added something new: fractured fairy tales . . . in graphic-novel style They're brought to life in full color by some of today's best children's book illustrators. But wait, there's more "The Enchanted Toilet" also has a whole bunch of mystical activities--including crafts, recipes, poems, jokes, tongue twisters, and a few magical experiments. All you have to do is wave your magic wand and click your heels together three times. You'll be enchanted by . . .
Fantastic facts
- Real-life princesses (including one with a tattoo )
- Ninja: secrets of the invisible warriors
- The human magnet and other dark wizards
- The real-life Hogwarts
Enchanting activities
- How to make a wand
- Using treats to catch a leprechaun
- Sir Uncle John's "Guide to Training Your Dragon"
Twisted tales
- "The Cockroach, the Mouse, and the Cricket"
- "The Fairy Hedgehog"
- "Ali Baba and the Forty Steves"
Price = 6.45 USD