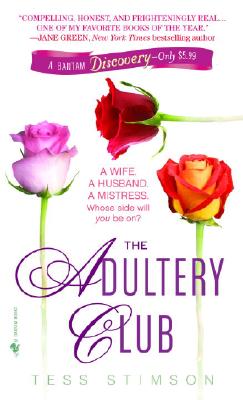 Stock Image. Our cover may be different
Author Name Tess Stimson
Title The Adultery Club (Bantam Discovery)
Binding Mass Market Paperback
Book Condition Used - Good
Publisher Bantam Discovery January 2008
ISBN Number 0553591401 / 9780553591408
Seller ID 682383
All books from our inventory are good to like new condition, unless otherwise stated. Satisfaction is guaranteed.
More Description
Nicholas Lyon is the perfect husband--a handsome divorce attorney who dotes on his family. Sara Kaplan is the perfect seductress--a vivacious young lawyer unburdened by sexual scruples. And Malinche Lyon is the perfect wife--a beautiful cookbook writer and mother to three darling daughters. Now, in this smart, wickedly sexy novel, Nick, Sara, and Malinche are all about to join...The Adultery Club
Suddenly Nicholas--a man totally in love with his wife--is fantasizing about Sara. Sara is toying with Nick. And Malinche is facing temptations of her own. While appetites are whetted and sated from London to the English countryside, one heretofore happily married man and two very different women are about to discover the difference between fulfilling your wildest desires--and getting your just deserts.
Price = 3.00 USD