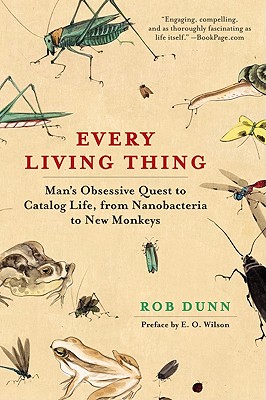 Stock Image. Our cover may be different
Author Name Rob Dunn
Title Every Living Thing: Man's Obsessive Quest to Catalog Life, from Nanobacteria to New Monkeys
Binding Trade Paperback
Book Condition Used - Good
Publisher Harper Perennial April 2010
ISBN Number 0061430315 / 9780061430312
Seller ID 665383
All books from our inventory are good to like new condition, unless otherwise stated. Satisfaction is guaranteed.
More Description
Biologists and laypeople alike have repeatedly claimed victory over life. A thousand years ago we thought we knew almost everything, a hundred years ago, too. But even today, Rob Dunn argues, discoveries we can't yet imagine still await us. More is unknown than known, whether about our bodies or the bottom of the sea.
In a series of vivid portraits of scientists as interesting as the mysteries they chase, Dunn introduces the reader to breakthroughs that have changed the world and others that might still. With poetry and humor, Dunn reminds readers how tough and exhilarating it is to study the natural world, and why it matters.
Price = 7.50 USD