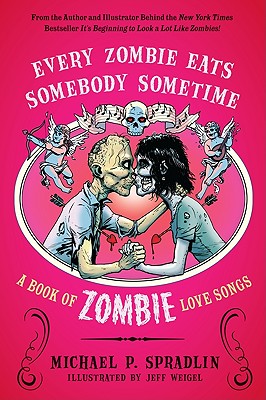 Stock Image. Our cover may be different
Author Name Michael P. Spradlin
Title Every Zombie Eats Somebody Sometime: A Book of Zombie Love Songs
Binding Trade Paperback
Book Condition Used - Good
Publisher William Morrow Paperbacks December 2010
ISBN Number 0062011820 / 9780062011824
Seller ID 662888
All books from our inventory are good to like new condition, unless otherwise stated. Satisfaction is guaranteed.
More Description
Zombies have feelings, too. . .
Sure, losing a limb doesn't faze them in the slightest, but a zombie's rotting heart can still break justlike anybody else's. Yes, it's true: Zombies need loving And this soul-stirring collection of more than two dozen classiclove songs is just the ticket for zombie romantics everywhere.
Price = 5.00 USD