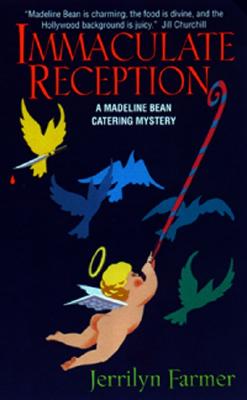 Stock Image. Our cover may be different
Author Name Jerrilyn Farmer
Title Immaculate Reception (Madeline Bean Mysteries)
Binding Mass Market Paperback
Book Condition Used - Good
Publisher HarperCollins April 1999
ISBN Number 0380795973 / 9780380795970
Seller ID 592371
All books from our inventory are good to like new condition, unless otherwise stated. Satisfaction is guaranteed.
More Description
The Pope is coming to breakfast, and Madeline Bean's got frittatas on the skillet. What a coup for gourmet caterer Mad Bean and her company, the event-planning wizards, chosen to mastermind L.A.'s official welcoming extravaganza. Pulling off the early morning meal for His Holiness, and two thousand high profile bigwigs, sounds like great fun for the unflappable Ms. Bean.
But things quickly go from serene to sinister when a young priest turns up dead in the bed of an uninhibited Hollywood star, and a yellowed page of Latin scrawl, found tucked in an old book of mouthwatering Church recipes, reveals a mysterious Jesuit Brother's shocking past. Even the course of Madeline's ragged love life gets a jolt as charming Xavier Jones, the man who left her at the alter ten years ago, reappears and still won't explain why he bugged out. With the Pope arriving any day, it's up to Madeline to sort out this unholy mess of burnt brioche, tantalizing treasure, pesky naked starlets, and homicidal caterers-or a party that should go down in history could be history before it even begins.
Price = 3.00 USD