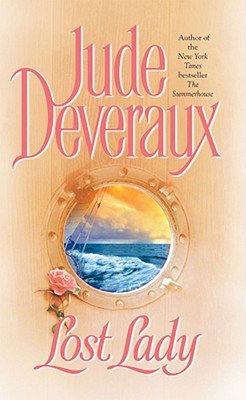 Stock Image. Our cover may be different
Author Name Jude Deveraux
Title Lost Lady
Binding Mass Market Paperback
Book Condition Used - Good
Publisher Pocket July 1991
ISBN Number 0671739778 / 9780671739775
Seller ID 589924
All books from our inventory are good to like new condition, unless otherwise stated. Satisfaction is guaranteed.
More Description
Jude Deveraux touches the heart with this captivating novel of unexpected passion, adventure, and second chances.
"Lost Lady"
Forsaken by her guardian and narrowly escaping marriage to a money-hungry suitor, Regan flees Weston Manor, the only home she's ever known, determined to rule her own destiny. When Travis Stanford, a big, rugged American, finds Regan on London's docks, he vows to protect her -- unaware of the magnificent, iron-willed beauty she would become, or the dangerous, passion-filled future that awaited them both. From England's bawdy wharves to Virginia's elegant mansions, their love was kindled by chance, and flamed by the thrilling pursuit of unknown tomorrows.
Price = 3.00 USD