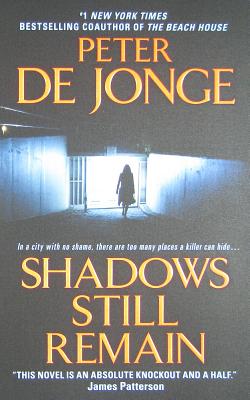 Stock Image. Our cover may be different
Author Name Peter De Jonge
Title Shadows Still Remain
Binding Mass Market Paperback
Book Condition Used - Good
Publisher Harper May 2010
ISBN Number 0061882267 / 9780061882265
Seller ID 581207
All books from our inventory are good to like new condition, unless otherwise stated. Satisfaction is guaranteed.
More Description
Thanksgiving, downtown New York City, 2005. In the early morning hours an extraordinary young woman dies horribly--as a topless Kate Moss peers down from a billboard over rain-spattered Houston Street.
Detective Darlene O'Hara of the Seventh Precinct has a drinking problem that only exacerbates the massive chip on her shoulder. When her case-the very bad death of a beautiful, brilliant NYU student-turns high-profile and is handed to a legendary NYPD Homicide detective, she refuses to let it go. But Darlene's unauthorized investigation is dragging her and partner Serge "K" Krekorian far from the ivory towers of academia into the very worst corners of the city--where the same shocking secrets that destroyed a teenager now threaten to obliterate O'Hara's life and career.
Price = 4.00 USD