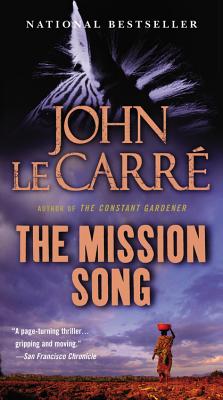 Stock Image. Our cover may be different
Author Name John le Carre
Title The Mission Song: A Novel
Binding Mass Market Paperback
Book Condition Used - Good
Publisher Little, Brown and Company August 2008
ISBN Number 0316016764 / 9780316016766
Seller ID 273711
All books from our inventory are good to like new condition, unless otherwise stated. Satisfaction is guaranteed.
More Description
Hailed everywhere as a masterpiece of suspense, John le Carre's return to Africa is the story of Bruno Salvador (aka Salvo), the 25-year-old orphaned love child of an Irish missionary and a Congolese woman. Quickly rising to the top of his profession as an interpreter, Salvo is dispatched by British Intelligence to a top-secret meeting between Western financiers and East Congolese warlords, where he hears things not meant for his ears - and is forced to interpret matters never intended for his reawoken African conscience. By turns thriller, love story, and comic allegory of our times, THE MISSION SONGrecounts Salvo's heroically naive journey out of the dark of Western hypocrisy and into the heart of lightness.
"A ragingly readable adventure tale. . . . Every issue of today is here: class warfare, race, torture, immigration, language. But THE MISSION SONG is also a tender love story, a fast-paced thriller, and a story with as many brilliant minor characters as major. Like another favorite of mine, "The Constant Gardener, " it 'gets' the centrality of Africa to our world today." -"Salon"""
Price = 5.00 USD