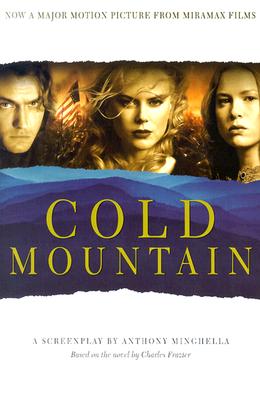 Stock Image. Our cover may be different
Author Name Anthony Minghella
Title Cold Mountain: A Screenplay
Binding Trade Paperback
Book Condition Used - Good
Publisher Miramax December 2003
ISBN Number 1401359426 / 9781401359423
Seller ID 549255
All books from our inventory are good to like new condition, unless otherwise stated. Satisfaction is guaranteed.
More Description
Based on Charles Frazier's National Book Award-winning novel, Anthony Minghella's screenplay is published to coincide with the Miramax Films release starring Nicole Kidman, Jude Law, Renee Zellweger, Natalie Portman, and Phillip Seymour Hoffman.
Cold Mountain is the story of Inman (Jude Law), a wounded and disenchanted Confederate soldier who embarks on a lonely and perilous return to Cold Mountain, North Carolina, to Ada (Nicole Kidman), the lvoe he left years before. Inman undertakes this journey across the South and encounters a slew of colorful characters along the way, while Ada struggles to maintain the family farm with a drifter (Renee Zellweger). Set during the turbulent years that followed the Civil War, Cold Mountain is a sweeping adventure, a powerful love story, and a portrait of a country in turmoil.
Price = 5.45 USD